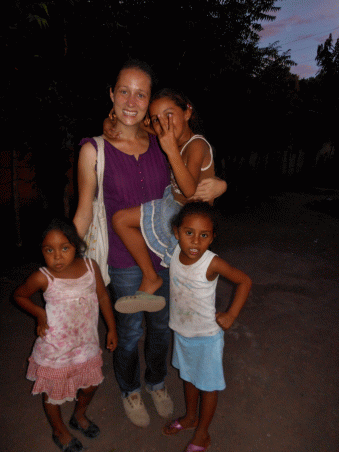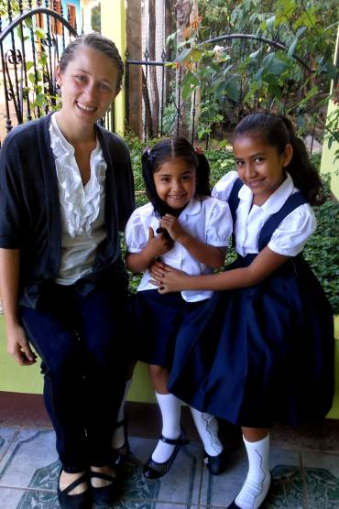 Who I am: My name is Katie Adams, and I served in the Teaching English as a Foreign Language (TEFL) program of Peace Corps Nicaragua. I started here in September of 2012 and would have completed service in November 2014, but I extended for an extra 6 months as a Regional Volunteer Leader and finished in May 2015. For my extension, I moved to the local department capital called Somoto, a town famous for its proximity to the beautiful Somoto Canyon and for its long tradition of baking rosquillas, small corn and cheese based cookies that are perfect with a cup of locally grown coffee.
As a Volunteer Leader (PCVL) I conducted site visits with volunteers in my region as an extra means of support and was more involved with local site development for future volunteers. I also worked on a grant project funded by USAID's Small Project Assistance (SPA) program to provide monthly professional development encounters for 25 local high school English teachers. Each encounter involved a morning of workshops focused on new methodologies and teaching strategies and an afternoon of English class using textbooks provided by grant funds. It was great to see teachers progress in their English levels as we work through the curriculum. Their enthusiasm for practicing English and implementing new strategies in the classroom was really motivating.
What I did in Peace Corps, including where and I served: Although I've moved sites twice (once mid-way through my service and once to become a PCVL), I've always lived in the department of Madriz, which is found in the northern mountainous region bordering Honduras. My initial site was the medium sized town of Palacagüina. I worked there for my first year before being transferred to a smaller village just an hour away called San Lucas where I spent my second year of service.
In all the places I've lived and worked and traveled in country, one thing I always come back to is how Nicaraguan girls are negatively affected by a machista culture that teaches them not to advocate for themselves and pursue their dreams. I was working with a group of adolescent girls in my site to talk about life skills and reproductive health, as well as dance and play sports. Additionally, for the second two years of my service, I was involved in organizing the national girls' empowerment retreat, Camp GLOW (Girls Leading Our World), held in the department of Jinotega. Each year GLOW brings 60 girls together from across the country to participate in a 5-day camp where they have the chance to discuss how gender stereotypes and inequality impact their lives and create a network of young women ready to create positive change in their communities.
Why I went and what impact I think my service had (on others and on me): I decided to join Peace Corps directly after earning a BA in Spanish with a minor in Economics at Birmingham-Southern College because I wanted to connect what I had learned about community, relationships, and the complexity of service (as well as my Spanish skills) with real-world work on the ground in another country. I wanted to commit myself to integrating into a new culture and test my ability to adapt, be patient, and have an open mind in the face of cultural differences and challenges.
Although most of my service officially focused on work with local English teachers (planning and giving class, organizing professional development workshops, and using resources available to design new materials), I think one of my bigger impacts has been the work I've done with young women. Seeing how young women can become more comfortable talking about their bodies and standing up for their rights has been the biggest reward of my service and has definitely influenced the career path I plan to pursue in the near future as I return to Birmingham to work before going on to study for a Master's in Public Health.
I would recommend Peace Corps to today's college students because: It's a chance to step outside everything you know and love and rediscover it in a new way. For a long time I've been deeply committed to using my life in service of others, but I didn't really know how that would play out after graduating college. I was often overwhelmed by big, complicated issues like poverty, racism, and inequality and couldn't see how my contributions would make any difference. Then a friend shared the following quote during a service-learning activity: "Don't ask what the world needs. Ask what makes you come alive, and go do it. Because what the world needs is people who have come alive" (Howard Thurman). Not only has Peace Corps service tapped in to those things that make me feel alive, but it has also opened up new roads and paths of interest to follow as I continue learning, serving, and living.
Interested in learning more about my life in Peace Corps? Read my blog at: katiewandering.wordpress.com