It is not too early to think about gifts for stocking stuffers/teacher and/or family and PC colleagues. We have the international calendars for 2016. These are our only fundraiser and any profits are used to support Peace Corps Partnership Projects or our own Alabama pcvs in their service projects or care packages. Everyday has a special holiday to celebrate with our friends around the world. This is a "happiness" gift.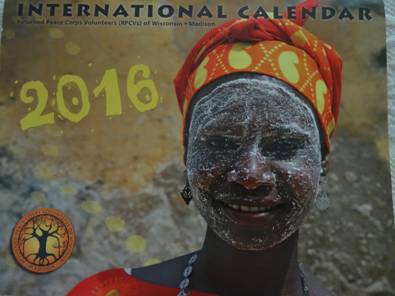 Countries featured this year include: Mozambique, Namibia, Moldova, Jordan, Peru, Sierra Leone Ecuador, Thailand Tanzania, Ethiopia, Poland, Mexico and Turkey.
Calendars are $10 each or $8 each if you order 10 or more. As they have cost us more this year, we will have to charge for shipping if we can't get them to you in person. ($2.50 for 1-3, $5.00 for 4 or more). Email Kathy Angus (kjangus@charter.net). Let her know how many you would like and she will get them to you.